Background
Advancing digitalization and extensive interconnectedness of different stages of production make for an important progress in industrial practices and are often subsumed under the term "Industry 4.0". Small and medium-sized enterprises (SMEs) in particular can benefit from that progress. Flexible production practices facilitate customizable products and faster adaptation to possible changes in the market and yet, a lot of SMEs hesitate over seemingly enormous costs caused by automation and digitalization, especially if short and medium-term benefits aren't immediately apparent. Moreover, AI technology has become a widely talked-about topic which may lead people to think of it as some sort of temporary craze when actually, it is highly important for SMEs to remain up to date and competitive in this field.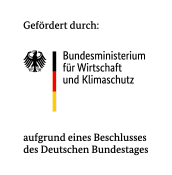 Aims
The network Mittelstand-Digital Center Darmstadt provides support with the implementation of topics related to Industry 4.0 as well as topics within the scope of future technology AI for businesses through free-of-charge information events, workshops and training programmes. Interested parties are provided with opportunities to try out existing solutions in order to gain an impression of how an implementation of these topics could benefit their own companies. All activities are funded by the initiative "Mittelstand Digital" of Germany's Federal Ministry for Economic Affairs and Climate Action (BMWK).
Method
As experts for everything about "Work 4.0", the IAD imparts content about organizing work(places) in a human-centric way. Amongst other things, we explore opportunities to increase usability in technology and workplaces, to establish a virtual culture of learning inside companies and to create impressions of potential human-robot collaboration. In addition, we share new insights regarding AI in future workplaces with the companies we guide. According to the principles of ergonomics, we always keep an eye on efficiency as well as human criteria so that Industry 4.0 can be of use for businesses and employees alike. Companies can sign up for expert discussions that allow for individual dialogue with technical experts regarding topics such as digitalization and AI and, within the duration of a project, they can also apply for implementation projects. The IAD devotes itself to the introduction of new technology for production as well as supporting businesses with the development and implementation of worker guidance systems.
Results
Alongside workshops about topics like human-robot collaboration, usability, virtual culture of learning and AI, the IAD offers evening fireside chats once a year. Here, SMEs can share their success stories regarding digitalization and AI and engage in dialogue with you. Additionally, we distribute pieces of knowledge and handouts to aid businesses.
Further information and an overview of our services are available at https://kompetenzzentrum-darmstadt.digital/de. Attendance of our events is free of charge; we advise to sign up in advance.