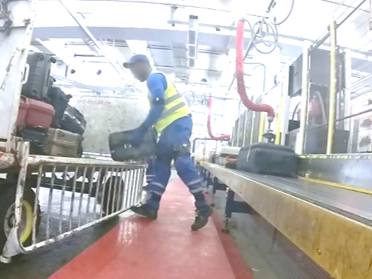 Background
Manual baggage handling leads to high workloads for the employees due to the manual transfer of loads and demanding postures due to limited working space. These lead to an increased risk of back, knee, neck and shoulder complaints, which rise with increasing years of service. It therefore makes sense to counteract the physical workload by the workplace design.
Aim
The aim of the project was to provide ergonomic support and advice to the project partner on ergonomic issues relating to the introduction of lifting aids. The project was divided into three central goals:
1. Development of a rough screening procedure for application at a large airport
2. Holistic analysis, measurement and evaluation of stresses and strains at various workplaces in aircraft handling (see Figure 1) and baggage handling (see Figure 2) with particular focus on the effectiveness of lifting aids
3. Transfer of the method and training of the project partner's staff for the application of the method.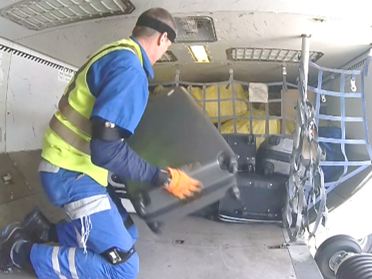 Method
The study included motion analysis using Captiv-Motion-Capture measurements, Workload assessment using the IAD-BkB method, measurement of action forces, as well as body segment-related EMG measurements and a subjective strain analysis in laboratory and field tests. The field test was carried out with 7 employees at two workstations in baggage handling and 7 employees at one workstation in aircraft handling at a large european Airport.
The rough screening procedure was developed based on the Screening method IAD-Bkb. For this purpose, the workload cases occurring at the airport were analysed and the symbolism and examples of the underlying evaluation procedure were adapted to the activities of baggage handlers. The tool was evaluated following the survey. Subsequently, the employees of the airport operator were trained in the use of the tool.
Results
The assumed positive effect of the lifting aid in baggage handling on the workload of employees was confirmed. Likewise, a significant decrease in local muscular strain in individual muscle groups was observed (Bier et al. 2019).
In aircraft handling, on the other hand, the body posture was mainly kneeling or standing heavily bent. On certain types of aircraft, only one posture with strongly bent knees was observed. Overall, this led to high workload on the back, which was also reflected in the measured results of local muscular strain on the back muscles. In the future, work aids for this activity must also be further developed and tested in order to protect employees from the high workloads.