Background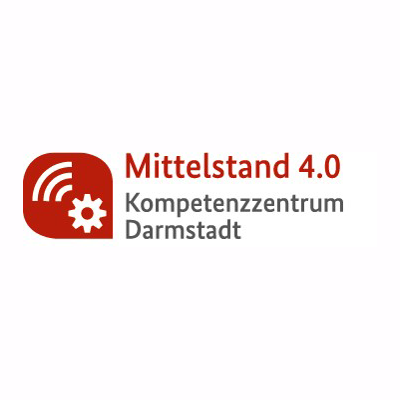 Ongoing digitisation and a comprehensive networking of production are important developments in industry and are often referred to as "Industry 4.0". Especially small and medium-sized enterprises (SMEs) can benefit from this development: Flexible production enables customer-specific products and fast adaptation to market changes. However, the seemingly immense costs of higher automation and digitisation make many SMEs hesitant, especially when the short and medium-term benefits are not directly apparent.
Aims
The Mittelstand 4.0 Competence Centre in Darmstadt supports SMEs and crafts businesses with the implementation of Industry 4.0 topics in their own company by providing free information events, workshops and training courses. This gives interested parties the opportunity to test existing solutions and gain an impression of how they could be implemented in their own company. All activities are supported by the "Mittelstand Digital" initiative of the Federal Ministry of Economics and Energy (BMWi).
Method
As an expert for questions concerning "Work 4.0", the IAD provides content on the ergonomic design of digitised and networked workplaces. Among other things, we examine how employees can be supported in achieving ergonomic behaviour in production and how workplaces can be adapted to the individual needs of employees. In addition to the technical possibilities of digital assistance, we also deal with the handling of sensitive employee data at digitised workplaces. Some solutions are implemented and can be tested by participants of the workshops. In accordance with the principles of ergonomics, we always consider both economic efficiency and human factors. Industry 4.0 in medium-sized businesses is therefore of benefit to companies and employees alike. In addition, companies can register for technical discussions and thus exchange ideas with experts on topics of digitisation on an individual basis. Companies can also apply for implementation projects within the project period. Here, the IAD works on the introduction of new technologies in production and supports companies with the development and introduction of worker management systems, for example.
Results
In addition to demonstrators on Work 4.0, workshops on digitisation in the working world, personal data and digitisation and works council work will be offered.
Further information and an overview of the offer can be found here: https://kompetenzzentrum-darmstadt.digital/de
Participation in the events is free of charge, early registration is recommended.