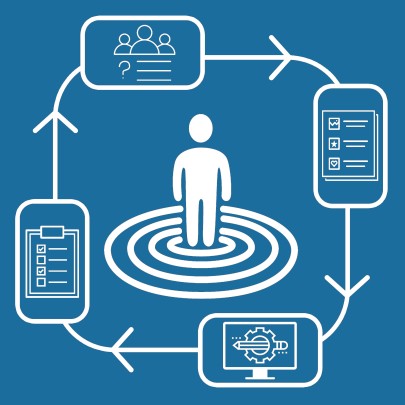 Systems that require interaction between humans and machines focus on humans as users with the aim of increasing safety, efficiency, comfort and acceptance through successful human-machine interaction.
Our research group is working on designing the systems with regard to functionality and interfaces according to the respective usage context as well as the user-related requirements (see also user-centered design process, DIN EN ISO 9241-210). The tasks of humans and machines as well as the criteria of usability and user experience are considered. Laboratory and field studies are carried out as part of the analysis and evaluation of systems from different application contexts.
User Requirements of Elderly Drivers for the HMI in Automated Driving
In this project we investigate the specific requirements of elderly people for HMI design in automated vehicles (SAE Level 2 and higher).
Picture: IAD
User-Centred System to Support Nephrology Treatment Decisions
The project aims to develop a holistic digital nephrology decision support tool that is oriented towards decision-making processes and support preferences of nephrologists.
Picture: www.s-bahn-muenchen-magazin.de
FormBetrieb I
In order to reduce the complexity of the existing rules and regulations for train dispatchers and thus facilitate learning and application, the FormBetrieb I project aims to identify design measures for a new digital guideline that promotes competence-based action by train dispatchers, especially in interface areas.
Picture: www.lifeofpix.com
ReiLe - Passenger Guidance
The aim of the Traveler Guidance project is to identify suitable methods for the effective guidance of travelers at the train platform using behavioural and technical approaches.