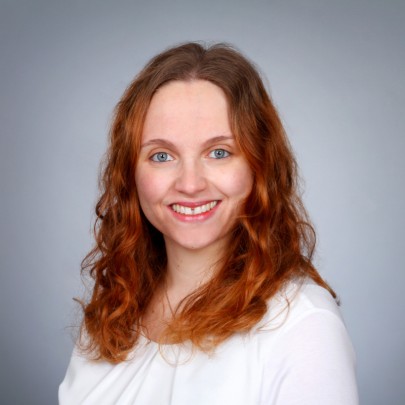 Research Associate
Deborah Petrat studied psychology at the Johannes-Gutenberg-University in Mainz (Bachelor) and at the Technical University in Darmstadt. Her main focus during her master studies was on industrial and engineering psychology. In her master thesis she investigated the influence of non-acoustic factors on the noise sensitivity of airport residents.
Since December 2018, she has been working as a research associate at IAD in the research group People & Organization. As part of her doctorate, she is working on the impact of artificial intelligence (AI) on the world of work, particularly in the area of AI and leadership.
Since October 2019, she has been an AI trainer for the Mittelstand 4.0 Competence Center Darmstadt. In addition, she has been deputy managing director of the Competence Center Work and Artificial Intelligence (KompAKI) since October 2020.
Selection of completed student projects
Yenice, Ilker (2020): Artificial Intelligence as a manager: A survey on expectations and acceptance of AI as a leader (Studienarbeit)
Dürrnagel, Michelle (2020): Influence of organizational factors on leadership – a survey study (Masterthesis)
Christoffer, Florian Paul (2019): Artificial Intelligence in Ergonomics: Analysis of the Influence on Work Activity, the Workplace and the Working Enviroment (Masterthesis)
Number of items: 5.
2021
Petrat, Deborah (2021):
Einfluss von Künstlicher Intelligenz als situative Führungskraft auf die Leistung, Motivation sowie Zufriedenheit von Mitarbeitenden.
In: Arbeit HumAIne Gestalten - Konzepte menschzentrierter KI-Arbeitsplätze : jetzt für die Arbeit von morgen vordenken. Dokumentation des 67. Arbeitswissenschaftlichen Kongresses, GfA Frühjahreskongress 2021, Ruhr-Universität Bochum,
Bochum, GfA-Press, ISBN 978-3-936804-29-4,
[Conference or Workshop Item]

2020
Stockinger, Christopher and Steinebach, Tim and Petrat, Deborah and Bruns, Robert and Zöller, Ilka (2020):
The Effect of Pick-by-Light-Systems on Situation Awareness in Order Picking Activities.
In: Procedia Manufacturing, 45, pp. 96-101. Elsevier, ISSN 23519789,
DOI: 10.1016/j.promfg.2020.04.078,
[Article]

Petrat, Deborah (2020):
Künstliche Intelligenz im Arbeitskontext – ein aktueller Forschungsstand zum Einfluss und zur Anwendung von Künstlicher Intelligenz am Arbeitsplatz.
In: Digitaler Wandel, digitale Arbeit, digitaler Mensch? Dokumentation des 66. Arbeitswissenschaftlichen Kongresses,
Dortmund, GfA-Press, GfA Frühjahreskongress 2020, TU Berlin, 16.03. bis 18.03.2020, ISBN 978-3-936804-27-0,
[Conference or Workshop Item]

Petrat, Deborah (2020):
Künstliche Intelligenz im arbeitswissenschaftlichen Kontext – eine definitorische Einordnung anhand menschenzentrierter Betrachtungsebenen von Arbeitsprozessen.
In: Digitaler Wandel, digitale Arbeit, digitaler Mensch? Dokumentation des 66. Arbeitswissenschaftlichen Kongresses,
Dortmund, GfA-Press, GfA Frühjahreskongress 2020, TU Berlin, 16.03. bis 18.03.2020, ISBN 978-3-936804-27-0,
[Conference or Workshop Item]

Stockinger, Christopher and Petrat, Deborah and Zöller, Ilka (2020):
Mitarbeitereinstellung zum flexiblen Arbeitszeitmodell "Vier-Tage-Woche".
In: Digitaler Wandel, digitale Arbeit, digitaler Mensch? Dokumentation des 66. Arbeitswissenschaftlichen Kongresses,
Dortmund, GfA-Press, GfA Frühjahreskongress 2020, TU Berlin, 16.03. bis 18.03.2020, ISBN 978-3-936804-27-0,
[Conference or Workshop Item]